There are many stretches of old Route 51 out there. This page will help you find them.
---

Uniontown to Mon River Crossing: With this section literally almost in my back yard. I have done the most research and findings here. Current PA 51 on this stretch is almost completely on a new alignment. The old stretches are as obvious as 'Old 51' and extremely tricky. One stretch took me 5 years to figure out. But no matter how you find them on this stretch there are many.

I am starting this discussion in Elizabeth and working Southward. Before the new Elizabeth Bridge and Elizabeth Bypass were opened in 1948. PA 51 was routed through the small River Town of Elizabeth. The routing is such.
Coming across the Mon PA 51 entered Elizabeth on Plum Street. PA 51 Southbound would continue on Plum St. for 3 blocks before taking a right onto Third Avenue. It was on Third Avenue for One Block before turning right onto Market Street and exiting the town. PA 51 would enter Elizabeth via Market St. turn Left onto Second Avenue and Right onto Plum St. before Crossing the Monongahela into West Elizabeth.

You can see what the old Elizabeth Bridge look like in this 1897 View of Elizabeth Courtesy of Bruce Cridlebaugh

Although not confirmed yet, the next visible evidence of Old PA 51 occurs .5 miles later at Wiegle's Hill Road. Looking to your left (let it be noted that most of the former alignment of PA 51 would be on the northbound side of the road) you can see what looks like to be a prior embankment for a bridge over the run. As you continue south, there is enough of a clearing for a 2 lane road. This clearing eventually becomes Penn Vista Road. Penn Vista Road parallels PA 51 to just north of Roberts Hollow Road. Further evidence shows that this was actually the former ROW of an old rail line not old PA 51.

The next possible alignment of PA 51 is Hutchinson Rd., which occurs halfway up the hill from Roberts Hollow Rd., Hutchinson Rd. exits and enters PA 51 from the Southbound side of the roadway. It re-enters 51 at the intersection with Round Hill Road. Ext. This is where I think PA 51 was routed along Round Hill Road Ext. until its intersection with modern day PA 48. It then turned right onto Scenery Drive (PA 48) heading back to today's 4-lane. However, about 20 yards before today's intersection of PA 48/PA 51 Scenery Drive heads left and goes behind Molnars Bar (It's the pink building on the right) and parallels PA 51 Northbound for about 3/4 mile. Wayne Cochran of Elizabeth Twp. has confirmed to me the PA 51 used to be routed on the non-PA 48 section of Scenery Drive.

However, across from the McHolme Construction Company there looks to be a right-of-way path cut on the northbound side. Could this have been old PA 51? or was it a possible ramp to the never built 'New PA 48'

This Microsoft Terraserver image shows two possibilities. One, the ramp like clearing from North 51 may have been a ramp to the NEW 48. Two, Could Payday's Road, that ends at McHolme Construction Company, have been part of OLD PA 51?

Getting back to the confirmed stretch of OLD 51. About 3/4 mile North of the PA 136 interchange, the old road dead ends with a right of way heading up the ravine to modern day 51. Another part continues straight. The section that continues straight is OLD PA 51. This is confirmed by exiting off of PA 51 at the PA 136 Interchange and turning towards West Newton. If you look to your left (North), you will see behind the farmers market and old Gulf Station the former 2 lane alignment of PA 51 intact. This alignment continues and connects to the Scenery Drive Alignment. From my observations, the northbound ramps of the PA 51/PA 136 diamond were built on top of old 51. This is confirmed by the alignment of telephone poles south of this interchange heading towards Airport Rd.

A few notes. The branch of Old 51 that heads back to the current alignment is blocked by overgrowth and dumped dirt. I believe that this was a connector from the old road to the new while the new stretch was under construction. Also, Wayne Cochran told me that at the former crossroads of PA 31 now PA 136 and PA 51 there were 4 gas stations at the corner. The Gulf station I refer to IS NOT one of them.

The telephone poles from PA 136 to Airport road are about a 1/3 mile stretch and are located about 15 yards from the Northbound roadway. Enough of a separation for a 2 lane road to fit in between. This is also confirmed by Airport Road which goes to the Rostraver Airport. Airport Road at the Northern end has a definite clue of a former right-of-way from old asphalt. Airport Road reenters current PA 51 at the 51 split in Rostraver. I believe that old 51 was the northbound lanes of the split. The southbound lanes would then have been added.

Old PA 51 switches over to the Southbound lanes in front of Bill's Golfland and Diner (established 1947) It then exits on the current exit ramp to PA 201. This is now the routing of PA 51 before the Rostraver Bypass was built in 19XX. You will pass Peasant Village. You can tell by the cleared ROW of that ramp that this was original PA 51. Continue straight on to South PA 201, go past Sweeney's and turn left onto the ramp to PA 51 south. The ramp climb a short hill and then hit PA 51. OLD 51 would cross PA 51 and is now called Ella Dr. Ella Dr. winds along to it returns to current 51 crosses the 4 lane divided highway onto McKenhery Road. The road loops behind PA 51 for about 1 mile. About 1/10th of a mile before McKenhery's return to modern-day 51. There is a white house and a section of road blocked of by a chain. This road blocked off was old 51. This section continues down a hill for about 2/10ths of a mile until it runs smack into a hill carrying today's 51. To get to the other side of old PA 51. This is also evident by the old telephone poles going down the ravine from current 51 Get back on PA 51 South. Travel about 1/10th of a mile There will be a sign for Cedar Creek Park and turn left. This is Orchard Lane. If you turn left you will be on the original routing that runs 1/10th of a mile into the hill which matches the McKenhery Road spur. Bear right and cross over a parallel bridge. There will be a sign that tells you Cedar Creek Park Left. Keep going straight. You will go behind an Exxon Station among other businesses. Old PA 51 continues straight onto Sylvan Road. There is another what I believe connector road from the new to the old 51 at the Sylvan Road sign it goes between the Exxon and the former now torn down Howard Johnson's. Sylvan Road/ OLD PA 51 will go past a towing company on the left and abruptly end at the ramp from I-70 West to PA 51 North.

This is where it gets interesting if you have a chance park your car at the Exxon Station. Walk to the 51/70 interchange and check out the loop ramps on the Northbound side. You will see the original pavement of this PA 51 alignment disconnected from Sylvan Road. However, the former road bed is well hidden under grass and trees but it is there.

---

South of I-70 :

After I-70, PA 51 meets PA 981. As the 1953 PA Map shows, PA 51 and PA 981 were multiplexed for less than a mile. PA 981 currently ends at PA 51 at the Cedarbrook Golf Course. The S-curve kink in 981 may have been part of the old alignment. Old PA 51 is known as Mt. Pleasant Road and runs for 1 mile along the west side of 51.

Before the town of Perryopolis on the Southbound side another original alignment of PA 51 exists. It is actually signed "OLD 51" It basically goes up and down a ravine. A short distance after Old 51 rejoins New 51 near the top of the hill, it turns off to the right again at the site of the old Blue Top Hotel. This building is still standing, and presently houses a motorcycle sales and/or repair shop, and possibly a restaurant. This section rejoins New 51 at Randalls Restaurant.

David Illig who is originally from Star Junction is very familiar with the routings of Old 51 between Perryopolis and Star Junction. He has provided much of the information about 51 in this area to the project.

Still heading south, make an oblique left turn off New 51 shortly after you pass Randalls Restaurant. Follow Old 51 past Frazier H.S. and turn right at the "T" intersection. Turn left at the next stop sign. Continue to the Diamond (the Perryopolis Town Circle) and bear right at the Diamond. Follow Old 51 to Star Junction. Turn right at the "T" as you enter Star Junction. Continue through the traffic signal (across New 51) and turn left behind Hardees. Go past the churches and up the brick hill. Follow Old 51 until it rejoins New 51 at Gene & Boots Candy store. Old 51 continued straight here (running on the west side of New 51), past Boni's Motel, but that section was obliterated by the New 51/Rt. 201 cloverleaf. There are a couple of short pieces of Old 51 remaining on the southwest side of the cloverleaf.

David also shared some of his memories about Old 51.

I can barely remember my dad taking me up on Old 51 to about where Boni's motel is to watch the big equipment building the cloverleaf.

By the time I was in elementary school, New 51 was open. I lived on the east side of New 51, as did (does) most of the population. The school was on the west side of New 51. There was no traffic signal at the crossing of Old and
New 51. The Star Junction Elementary School had a corps of Patrol Boys (of which I was one) under the sponsorship of the AAA that served as crossing guards. There would be at least three patrol boys at the intersection before and after school. Two of the boys had flags on long poles, and they stood on opposite sides of the road some distance from the intersection. The third boy, a Patrol Boy Captain, stood at the intersection to control the students who were waiting to cross. When the Captain saw no traffic nearby, he would blow his whistle to signal the flag boys to lower their flags across the traffic lanes. When the Captain was satisfied that all traffic was stopped, he would allow the children to cross. When they were safely across, he would blow his whistle again and signal the flag boys to raise their flags and allow traffic to pass again. I started out as a flag boy, and later became a Captain. The patrol boys remained after a traffic signal was installed. It was the Captain's job to control the children, push the button to turn the light red, and see the children safely across the road. That was a lot of
responsibility for elementary school boys, and such a thing would never be allowed today. We never had an accident, however.

That's more than I can say for cars crossing New 51 before the traffic signals were installed. My grandparents and I were injured (them seriously, me slightly) in 1955 when we were hit by a speeding car while crossing New
51. I recall that my grandfather stopped at the stop sign, and the car was a long way off. My grandfather apparently misjudged the car's speed, however. I recall that the police calculated a high rate of speed from the car's skid
marks. There were many other accidents and injuries at that intersection, and it is criminal that it took the Commonwealth so long to install a signal there due to lack of money.


For More Information on the history of the towns of Perryopolis and Star Junction, visit David's Website Perryopolis.com

There are many other old PA 51 alignments along this stretch including a 4.3 mile stretch south of Smock, PA. This is signed as Old Route 51. This is an excellent stretch of the old road, and it gives drivers an excellent idea of what the drive was like. The road begins about 1/2 mile south of Smock Road and exits from the southbound lanes. You will find many old bridges, original concrete and old signs on this stretch. At the end of the road you can see how the old alignment would have tied into the current road. It is now part of a current driveway.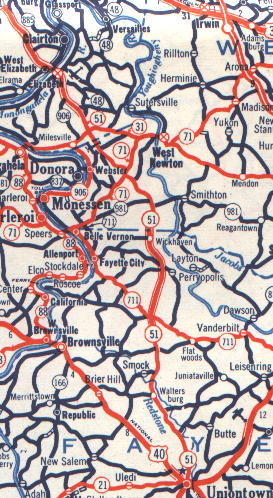 1953 PA Dept. of Hwys. map showing alignments in Rostraver, and south of Smock
---
Monongahela River Crossing to West End Circle: Imagine heading towards Pittsburgh for this segment. The Routing through West Elizabeth I am not sure of, but I am positive it was multiplexed with PA 837 for a block or two before heading up Scotia Hollow Road until it returns to PA 51 on the Large, PA side of Large Hill. At this point PA 51 is known as Clairton Blvd. Before it was Clairton Blvd. It was called Clairton Road. Do not be deceived at the sign at Worthington Avenue, that says Old Clairton Rd. no evidence at this point suggests that PA 51 ever went through Clairton.
However, there is a section that parallels PA 51 to the east heading south from Worthington Avenue. McGrew Road was at one time PA 51. Heading Northbound, at the bottom of Large Hill turn Right on to Worthington Avenue, take the next right onto McGrew Road you will go behind the former 84 Lumber. This road winds into McGrew Hollow follow it until you can't go any further. This was how PA 51 was routed up Large Hill Southbound before the current alignment. PA 51 then would head onto what now is Scotia Hollow Road.
During the Winter of 2000-01 I received stories of stores that were found along former PA 51 through McGrew Hollow and Large from former resident Russ McGrew:
just beyond the distillery on the other side of the road
-- up the Lewis Run part -- there appeared in the late 30's -- the first of
roadside supermarkets. I think it was called "The Streamliner" or
something quite similar.
I have mentioned the Large combination Gulf Station, Post Office, Bread
and Candy Store that stood at the intersection of Clairton Road and Rte 51.
(Incidentally, in the early 30's, Ripley's Believe It or Not - -in
probably the Sunday SunTelegraph had the Large Post Office as the smallest post
office in the USA -- or maybe the world.)
Just above where 51 crossed Scotia Hollow, Tommy Lewis had a
combination gas station - bread and candy store.
Over the ridge and down where Hogback Road intersected Scotia Hollow Rd
was a similar store run by the Caley's (a family whose next generation back
came from the Isle of Man).
Halfway down the hill (between the ridge and Caley's) was a house lived
in by a Griffiths family. The house had front bay windows that seemed to
suggest that at one time it had been a store -- but I don't recall anything
about it.
The only other store I can recall is the "Company Store" that existed
up at the "No 7 Patch."

Before Three Rivers Bank is where the first known Old Clairton Rd/PA 51 routing is located. Turn Left at the light and follow the road completely. It is now a county maintained road. It goes from farmland to suburb asphalt to concrete in the Pleasant Hills Section. It rejoins PA 51 at the South Hills Cloverleaf There is no evidence on how the road was aligned before the interchange's opening in 1939. My guess is that it is now part of the parking lot for the Bill Green Shopping Center.
The next section of Old Clairton Road exists about 1/2 mile from the South Hills Cloverleaf. Turn right at St. Elizabeth's Church this will be the light at the Supercuts and Bagel Shop. Old Clairton will then bear left down a ravine. This section is currently blocked off but you can walk down it. There is an old steel truss bridge with wooden planks that crosses Streets Run. The road then will wind itself up a hill crossing Streets Run Road and eventually returning to PA 51 in front of the Great American Federal Building.
Bruce Cridlebaugh explored this site and filed this report about this specific bridge and alignment of PA 51. Plus some additional History.
Another section of Old Clairton Road Exists off of Brownsville Road in Brentwood/Baldwin. Turn Left at the light and take the immediate right. The sign clearly states "Old Clairton Road" It links back up to PA 51 after 2 residential stop signs in front of the Brentwood/Whitehall Shopping Center.
Gene Yao has told me the routing of PA 51 before the West End Bypass and its prior intersection with Banksville Road before the parkway (I-279)
Also, before the West End Bypass was built, Saw Mill Run intersected Banksville Avenue (Banksville Road) at a traffic circle. On the other side of the circle, PA 51 continued on Woodville Ave., then Wabash Avenue, then Main St. Soon I will have a detailed map scan of this routing.

---

West End Circle to Ohio River Crossing (Beaver):Continue to head North. The only segment I know of at this time is the Narrows Run/Broadhead Rd./PA 18 alignment of PA 51 that starts in Moon Twp. just North of the Sewickley Bridge. At the light where current PA 51 heads right go straight on Narrows Run Road. Follow it past the light at Robert Morris College and turn right onto Broadhead Road at the next light. The map below shows the intersection of Beers School/Narrows Run/Beaver Grade and Broadhead Road.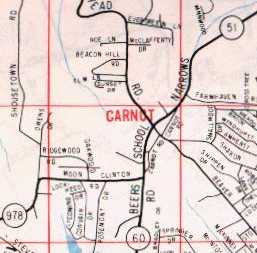 1960's map of West Hills. A larger image is located at Bruce Harper's Page
Follow Broadhead Road to PA 18 near the Beaver Valley Mall. Then follow PA 18 North through Monaca and across the Rochester/Monaca Bridge until you hit current PA 51.


The Old Routing of PA 51 through Western Allegheny and Beaver Counties. 1928 Map courtesy of Robert V. Droz
---
Ohio River Crossing to Ohio State Line:
Go to Bruce Harper's PA 51 West Page for more information.
---
Site Navigation:
PA 51 West ---Bruce Harper
Sources & Links:
My own personal travels, map collection, guesses, and observations
Wayne Cochran, resident of Elizabeth Township, PA
Discussions in misc.transport.road
Dan Moraseski for information on McGrew Road and Sweeney's Crossroads
Russ McGrew former resident of McCrew Road
David Illig for information on Old 51 in Perryopolis and Star Junction.
Pittsburgh and Pennsylvania Roads, Bruce Harper
Robert V. Droz for the 1928 Rand McNally scans.
Bruce Harper for the 1960's Pittsburgh Map
Any stories you can tell of businesses, accidents, or alignments of PA 51 would be greatly appreciated and of course accepted. Please e-mail them to aprince4@nc.rr.com
Page Created: October 26, 1999
Last Updated: April 1, 2003
© 1999-2003 Adam Prince
---