Former Alignments of PA 978; Allegheny County

---
From the 1930's until the mid 1970's, PA 978 extended northward beyond its current northern terminus in Imperial. The original road ran through Enlow, flirted with the Pittsburgh International Airport, continued on Moon/Clinton Road, until ending at PA 51 in Moon. The mid 70's saw the end of these roads carrying the PA 978 designation and the late 80s/early 90s saw many of these roads closed as the airport expanded. The airport and new Midfield Terminal ate up many of these road during construction; any roads that remain are gated off from public access.

Enlow Road, now an Allegheny County maintained road, was one of the local roads that once carried PA 978. It also was one of the many roads that have disappeared with the expansion of Pittsburgh International. In Enlow, there is still is a few signs that keep the 978 designation alive.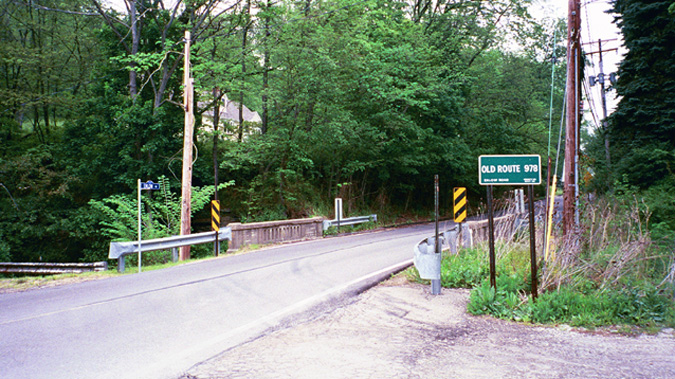 Photo taken by Denny Pine

This photo was taken about a mile north of the current northern terminus. Allegheny County was kind enough to mention the historical feature of Enlow Road. Enlow Road only continues for another 1/3 mile before being barricaded off. Signs along this road read 'No Outlet - Local Traffic Only.' At the fenced off terminus of this old alignment, you can view the old highway as it heads off a former well traveled path.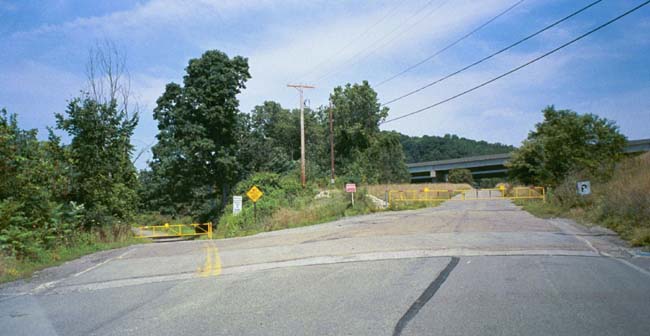 Photo taken by Denny Pine

PA 978 continued straight ahead as the bridges carry the decade old Southern Expressway (PA 60). Forking to the left is Clinton Enlow Road. Below, from PA 60 South a look back at this point and towards Enlow.


Photo taken by Denny Pine

You can see the fork at the bottom of the photo.

---
Site Navigation & Links:
PA 978 @ PAHighways.com ---Jeff Kitsko
Page Created: August 10, 2002
Last Updated: September 28, 2003
(C) 2002-03 Adam Prince
---