A unique way of tracing the remnants of the Central Highway is through the mountainous terrain of Eastern Buncombe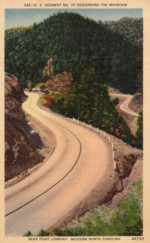 and Western McDowell Counties. From the east on US 70, you reach the base of Blue Ridge Mountains at the town of Old Fort. Old Fort is a tiny rail town that the old Central Highway and now US 70 goes through. The Central Highway can be followed via a right onto Mill Creek Road from US 70. Follow the highway as it takes you closer to the mountains. When Mill Creek Road bears right to head towards Andrews Geyser stay straight until the road ends at a gate. The nearby Piney Grove Church can be used for parking. At this point, the old Central Highway began a 3.5 mile climb of the mountain to Swannanoa Gap. NC 10 and later US 70 travelers followed this road for over 30 years until a new and modern four lane US 70 was built to the south. This same four lane road would eventually become Interstate 40.

The Central Highway through this area began as an old stage route that climbed the mountain near the tracks of the Western North Carolina Railroad. The rail line's ascent up the mountain featured the 1800' Swannanoa Tunnel. The old Central Highway crosses over the tunnel near the crest of the mountain. Once at Swannanoa Gap, the Central Highway descended down the mountain towards Ridgecrest and eventually Black Mountain.

Although the old Central Highway has been barricaded of for several years, it has become quite popular by local residents and travelers alike who hike and bike along the winding cement pavement. Amazingly the old road is very passable, save for downed trees and overgrowth. Remarkably, in some cases old pavement markings are still visible. The three and a half miles of abandoned highway ends near Swannanoa Gap with another barricade as the road returns - although sparingly for auto use. (Note: This western gate is marked as Private Property. It appears that the former highway is on private land for about a 1/2 mile from the Swannanoa Rail Tunnel to the west gate.)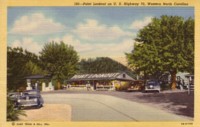 Along the way is Point Lookout which served as a popular site seeing stop as it overlooked the highly scenic Royal Gorge. Many views of the gorge and Point Lookout were captured on linen postcards commonplace in the 1920s through the 1940s. At Point Lookout, travelers often stopped at the scenic overlook. Here, one could fill up on gas, take a stretch, gather scenic views of Royal Gorge, or purchase local craftsmanship and homegrown harvest. It appears that the Point Lookout store, which was built between the Central Highway and the edge of Royal Gorge, was most popular in the 1930s.
I have been fortunate to hike this old highway in October of 2001 and 2007. It is a very easy hike but do bring water and snacks as the grade and length of the hike can get tiring over time. Residents near the old highway are very friendly and always willing to say hello and tell you about the old road. Be sure to bring your camera as the views from Point Lookout and along the old highway are very scenic.
Old Central Highway Photos:
All photos taken by webmaster - October 27, 2007.
Postcards used throughout the page are owned by the webmaster.