The bridge that connects the mainland to the Southern Brunswick County island of Sunset Beach may be the most unique bridge in the state. The Sunset Beach Bridge - a one-lane, wooden-deck pontoon bridge - is reported to be the last of its kind along the entire East Coast.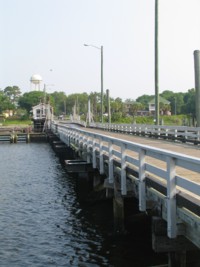 Crossing the sand marshes and Intracoastal Waterway, the bridge is a symbol of great pride to longtime local residents and beachgoers. Sunset Beach is considered one of the last old-fashioned beach destination in the Southeast. To residents, the bridge, built in 1961 (1), keeps the tiny three mile island away from the growth and expansion of the nearby Grand Strand.
The bridge takes travelers back to a time long before the large towering structures that carry traffic to the shores today. Throughout daylight at the top of the hour, the operator of this bridge will navigate the center span away and allow numerous pleasure crafts to continue on to their destinations near and far. As always, there are exceptions to the rule, as commercial and government operated boats can request the span to be opened at any time. But another exception - caused by nature - creates a spectacle that can not be seen anywhere along the state's glorious coast. Because of low tides, the bridge is closed to any naval craft. Because of the sometimes three hour long delay, many boats will set anchor and await call from the bridge operator informing them that he will open the passage at the top of the hour. When this happens, a parade of boats - large, small, and in-between - will pass through the open span to the delight of onlookers on both sides of the channel.
Bridge Photos:
All photos taken by the webmaster; May 26, 2006.