| | | |
| --- | --- | --- |
| | The Conway Byapss | |
---
Travelers Update!
If you are heading to The Grand Strand this Summer keep this travel tip in mind! Don't be confused by the signage for SC on US 501 that reads N. Myrtle Beach/Myrtle Beach. If you are staying in let's say Surfside Beach, which is south of Myrtle, or even in the heart of the Pavilion/Boardwalk Area taking SC 22 will add to your trip!

Highway 501 South approaching SC 22, 'The Conway Bypass'. (Photo by Charles Meek.)
Take

: If you are staying North of 65th Avenue North. That is Restaurant Row, Barefoot Landing, Briarcliffe Acres, N. Myrtle Beach, and points in between and to the North.

Take

: If you are staying South of 65th Ave. North, stay on US 501 to SC 544 or US 17. This would include the heart of Myrtle Beach, Surfside Beach, Garden City Beach, and Murrells Inlet.
If you are vacationing: in Cherry Grove, or Calabash and Ocean Isle, North Carolina and wish to visit the Hard Rock Cafe, Boardwalk at the Beach or any of the golf courses that line US 17 Bypass, take

to avoid the congestion along US Hwy 17 around Barefoot Landing and Restaurant Row.

---
On May 4, 2001, A ribbon cutting ceremony was held. The barricades were removed; and SC 22 - known as "The Conway Bypass" - was opened. The project finished six months ahead of schedule and $300,000 under budget. SC 22 will in the future become part of Interstate 73. For more reading on the progress on I-73 in South Carolina, please go here.
On June 29, 2000 the first segment of the 28.5 mile route opened. Seventeen months ahead of schedule. This was from US 17 (near Barefoot Landing) to SC 90. (Fluor Daniel Conway Bypass Project Page.) The photos below are from the SC 22/US 17 Interchange.
Becoming part of Interstate 73:
Interstate status was never a formal consideration for the Conway Bypass until late February 2002, when the SC State Legislature approved a resolution to petition "...state and federal highway officials to name Veterans Highway, also known as the Conway Bypass, part of Interstate 73, and the [Carolina Bays] Parkway part of Interstate 74." (1) The formal resolution can be viewed here. This would become the third time I-73's alignment would change. The route was originally planed to run to Charleston, then truncated to Georgetown, and now has been moved to Myrtle Beach.
The Conway Bypass runs from US 501 in Conway, SC to US 17 in between North Myrtle Beach and Myrtle Beach. Now that the Conway Bypass is designated to become part of Interstate 73, there are some questions regarding the current design of the highway as compared to interstate standards. Brian LeBlanc who traveled the route in September of 2001 commented on some of the shortfalls in SC 22 in relation to the design standards for Interstates, "It has dirt shoulders that look like they could be paved over, but the median isn't wide enough either." Dan Garnell, who traveled they bypass just after its completion in May 2001, took a photo along the highway. His photo, seen below, along SC 22 West shows the narrow shoulders and median that would need to be widened for a full Interstate standard freeway.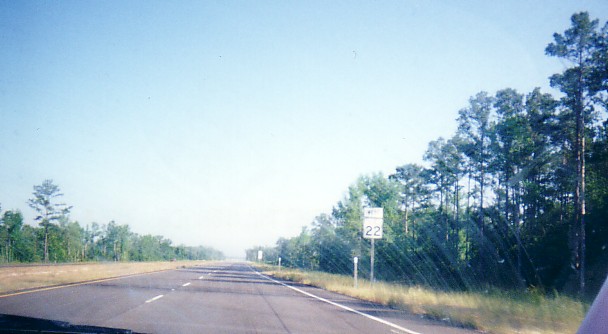 The preferred alternative for the highway from I-95 to Myrtle Beach has the proposed Interstate connecting to SC 22 between SC 319 and US 701. However, until funding for upgrading the bypass to Interstate status is granted, SC 22 will remain as is.
Photos along the Bypass:
| | | |
| --- | --- | --- |
| Approaching the Conway Bypass from US 17 North. (Chris Curley; Feb. 2006) | The bypass is accessed from US 17 North via a loop ramp. Connections to US 301 and SC 31 can be made via SC 22. (Chris Curley; Feb 2006) | Approaching the Carolina Bays Parkway (SC 31) on SC 22 West. (Chris Curley; Feb. 2006) |
Many thanks to Chris Reid and Dan Garnell for the following shots. The location is about 1.5 miles south of Barefoot Landing.
Image One SC 22/US 17 Interchange looking Southbound on US 17 at Kings Road.
Image Two A look at the 'floodpant' ramps.
Image Three A good view of the lowland terrain that SC 22 must contend with.
Image Four Yes, I do believe that is a dog in the middle of the picture. Another good ramp shot.
Image Five The Domino Bridge Pier Effect. The Conway Bypass will have 4 miles worth of bridges.
Image Six. A view from US 17 South at the SC 22 Interchange. The US 90 shield now reads US 501. (Dan Garnell)
---
Site Navigation:
Sources & Links:
SC 22 @ South Carolina Highways ---Mike Roberson
(1) Wilson, Zane. "SC Interstate Issues Revived." The Sun News. March 1, 2002.
Chris Reid
Dan Garnell
Christian Massey
Chris Curley
Barry Camp (US 501, SC 22, SC 31 graphics)
Page Created: April 26, 2000
Last Updated: September 9, 2006
If you any additional information please feel free to e-mail me
© 2000-06 Adam Prince



---