Holy Turnpike!!!
A Photo Essay on St. John the Baptist Catholic Church
Milepost 129: Pennsylvania Turnpike.
---

Along the 36 miles that are between the Somerset and Bedford interchanges on the Pennsylvania Turnpike, there is not much to break the monotony of this segment. Yes, there is the Allegheny Tunnel and a full service rest area that motorists can use to countdown the miles along this 30 minute drive between the two interchanges. However, it is at milepost 129 that maybe one of the most unique features of the Pennsylvania Turnpike appears. In the town of New Baltimore, one of the few towns the original Turnpike actually runs through, steps from both sides of the Turnpike can carry motorists, if they desire to stop, to St. John the Baptist Catholic Church. "The Church on the Turnpike" has become a travelers' tradition since the 1950s.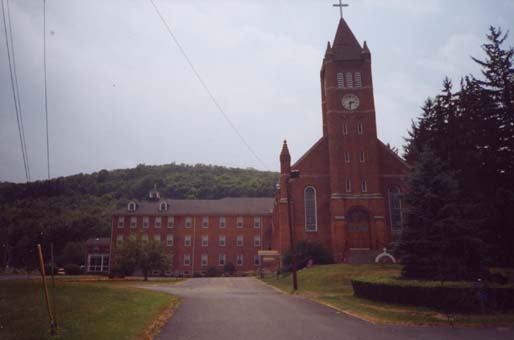 A full shot of St. John's Church (Adam Prince)
New Baltimore and the church's importance to the Pennsylvania Turnpike System has slowly lessened over the highway's 65 plus years in existence. A service plaza once existed nearby. Greyhound Bus Lines no longer pick-up or drop off passengers at the church. The town of nearly 200 residents is without direct access to the turnpike. However, the church, cut off from the town by the turnpike, still attracts curious passers by like myself in July 2002 along a busy ribbon of concrete and asphalt.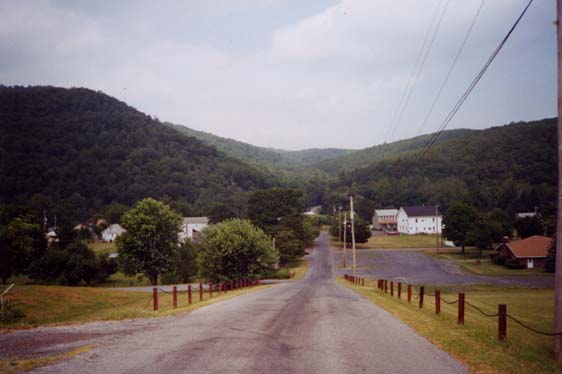 The quiet town of New Baltimore. (Adam Prince)

There are many who have stopped at St. John's Church , including the Bee Family, who share photos in the links below.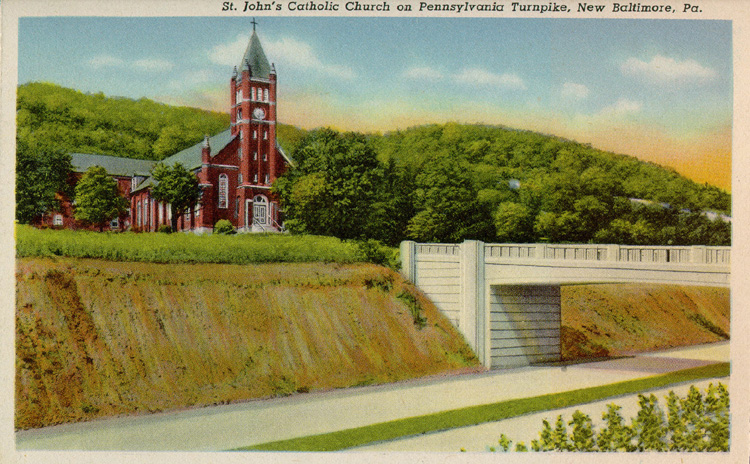 A vintage PA Turnpike Postcard showing St. John's Church. (Image courtesy Doug Weasner)
Sadly, the connection between St. John's and the Turnpike is coming to an end. As a result of a highway improvement project that will widen the toll road and update it to modern standards, the staircases on both sides of the the highway will be removed. Because there is no formal requirement for access to the church from the Turnpike to exist, the stairs will not be replaced. The project begins in 2009.
If you have any photos or stories you wish to share in regards to St. John's, please feel free to e-mail me.
---

Site Navigation:


Sources & Links:

Turnpike Traveler Winter 1999 Edition (this is an article about St. John's)
PA Turnpike @ PAHighways.com ---Jeff Kitsko
Bee Family
Doug Weasner


Page Created: May 20, 2001
Last Updated: April 29, 2007

© 2001-07 Adam Prince
---