Northern Virginia is full of history, and the Lee Highway runs through the heart of one of the most defining moments in our nation's history. The only two lane section of US 29 in Virginia runs through Manassas National Battlefield Park, site of the First and Second Bull Run (Manassas) battles in the American Civil War. Two historic structures from the battle sit within a few hundred feet of the Lee Highway.

First, the Manassas Stone Bridge. This site of this stone arch bridge was a key point in the First Battle of Manassas. It was Confederate forces stationed here that the first canon shot was directed at. After their defeat a year later in the Second Manassas, the retreating Union Army would destroy the center span of the bridge. Years later, a new stone arch bridge was built to carry the Warrenton Turnpike, predecessor of the Lee Highway and US 29, at the same site, it still stands today. (See top photo at right.)

The second historical structure that can be seen from the Lee Highway is the Stone House. The house, one of only three standing pre-Civil War structures within the park, was used as a makeshift refuge and hospital for wounded soldiers in both battles. The house has been property of the park service since 1949. (1) The restored home is usually manned by a park service guide that gives detail about the stone house's role in both battles. In numerous places on the building's exterior are unexploded wayward cannon shot that became lodged into the stone. (See bottom photo at right.)

Currently, plans are being studied to build a bypass for US 29 around the battlefield park. Both the Lee Highway and VA Route 234 carry a heavy volume of traffic through the park. As a result, Congress passed the Manassas National Battlefield Park Amendments of 1988 requiring studies for a bypass route of the battlefield park. (2) The study is currently in the Final Environmental Impact Study stage.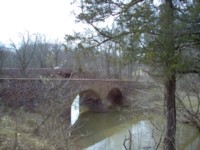 Photos taken by Mike Roberson;
February 2006.