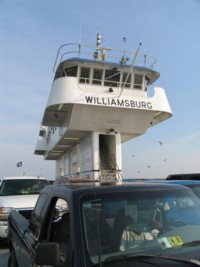 The Jamestown-Scotland Ferry, that carries VA 31 traffic across the James River, is Virginia's largest inland ferry operation. Running seven days a week, 24 hours a day, the four ferry boats (The Virginia, Surry, Pocahontas and Williamsburg - shown at right) that cross the James run throughout the year. Service began over 80 years ago on February 26, 1925 when the Captain John Smith made the initial crossing. (1)

Not long after the initial voyage of the Captain John Smith, the first suggestion of building a bridge to replace the ferry was made in 1928. Since then, there have been numerous discussions and proposals to build a bridge over the river, but none have gathered any steam. The Virginia Department of Transportation took over the ferry operation in 1945 and continue to oversee ferry operations to this day.

Directions & Notes:

From Jamestown: Follow VA 31 South to ferry terminal at Glass House Point
From Surry County: Follow VA 31 North through Scotland to ferry terminal
Since 2004 all vehicles are subject to a random security search before boarding the ferry.



All photos taken by the webmaster, August 26 ,2006.
---