No matter who you are, or when it was, the first time you see the over 90 year old Tunkhannock Viaduct, you are completely amazed. The reinforced concrete arch bridge, that rises 240 feet over the Tunkhannock Creek and Town of Nicholson below, magnificently rises over the valley below, but at the same time carries a simplistic artistic grace from an era gone by.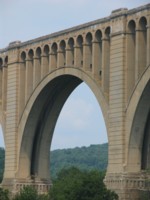 The 2,375 foot long bridge was the key part of a 39.6 mile relocation of the then Delaware, Lackawanna, & Western Railroad. Construction of the viaduct began in May of 1912. Concrete for the structure would be first poured in January of 1913. The bridge - which consists of ten 180 foot arches and two 100' partially filled abutment arches - was dedicated on November 6, 1915. The bridge piers were sunk to bedrock, which in some cases was as much as 138 feet below ground. To build the viaduct, it took 1,140 tons of steel and 167,000 cubic tons of concrete. (1)
The bridge - which at the time was described by some as "The Eighth Wonder of the World" - greatly improved rail travel in the area. Passenger rail times were reduced by 20 minutes while freight trains saw more than hour taken off their time schedules. The entire relocation, known as the Clarks Summit - Halstead Cutoff, trimmed off 3.6 miles on the DL&W's Hoboken to Buffalo line, eliminated seven circles of curves, reduced the maximum curve from six degrees to three, lowered the eastbound ruling grade from 1.23 percent to 0.68 percent, and also eliminated numerous at-grade crossings. (2)
One of the biggest compliments on the viaduct came from the author, Theodore Dreiser, in his book Hoosier Holiday. He wrote, "a thing colossal and impressive - those arches! How really beautiful they were. How symmetrically planned! And the smaller arches above, how delicate and lightsomely graceful! it is odd to stand in the presence of so great a thing in the making and realize that you are looking at one of the true wonders of the world." (3)
Today, trains that are part of the Canadian Pacific and Norfolk Southern ride over the viaduct. It is still a vital part of the northeast rail system. The town of Nicholson holds a bridge day every year in September to celebrate the bridge.
Viaduct Photos:
All photos taken by the webmaster - July 9, 2006.